I LOVE CHRISTMAS!!!
As I said in the last post, I LOVE CHRISTMAS! We had a wonderful Christmas this year! We are SO lucky to be so close to both of our families to celebrate the Holiday with!
We got to spend Christmas Eve with Kip's entire family! We had a blast, ate amazing food, went caroling (which is SO different for Robinson's), opened gifts (we were spoiled), had some laughs, and time went by WAY TOO FAST!!! Kip was passing out early in the evening due to his lack of sleep the night before so we had to head out early to finish our evenings events with being Santa's Helpers!!! We had a wonderful time helping Santa set up the gifts!!!
Of course I am SUPER LAME and have Pregnancy Brain and forgot my camera so I will be stealing pictures from family of the Robinson gift opening extravaganza!
Kip and I took a few shots of us helping out Santa! Kip had SO MUCH FUN being a Daddy and helping Santa! It was cute!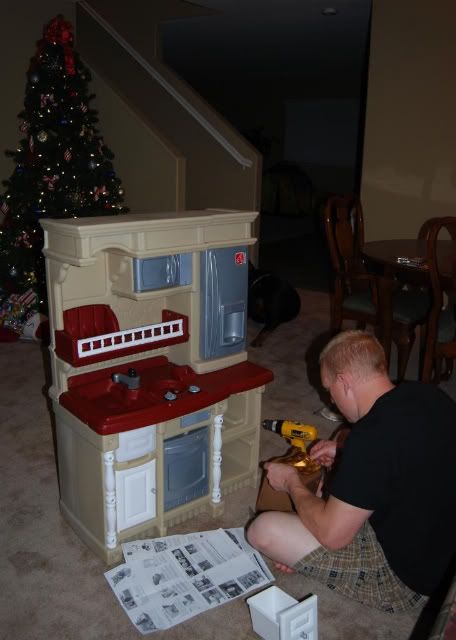 The loot after Santa came!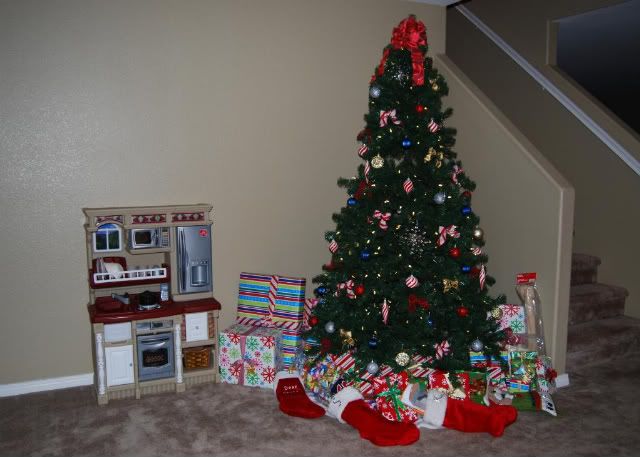 Christmas Morning Brooke was in HEAVEN!!! I do not have any pictures of her opening gifts because well.... she didn't! Once she saw her Kitchen and all her pretend food she was focused on that and that only which we were fine with! We opened the rest for her and showed her each of her toys, she looked for a while then headed back to her Kitchen! SO GLAD SHE LOVES IT!!!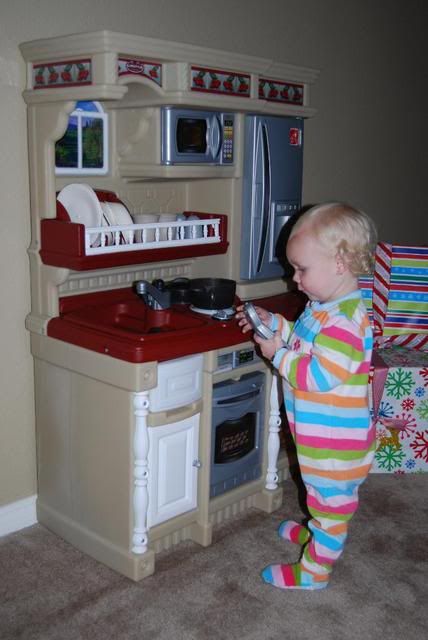 Daddy and the Family Gift! Daddy is also working hard to get me a MUCH BETTER camera ASAP so my Big Gift will be coming in the near future! IM STOKED!!!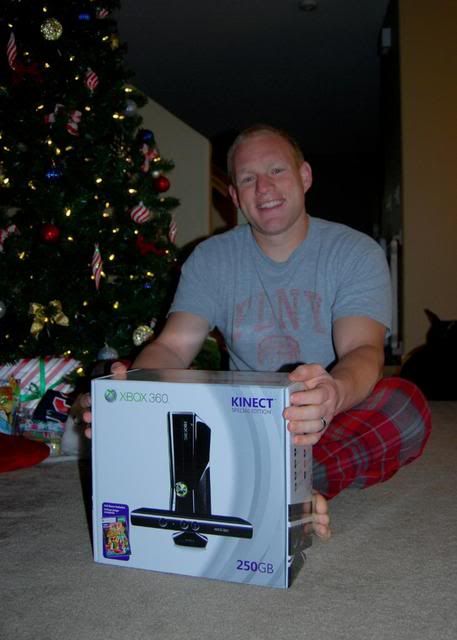 We played this for hours in the morning and had a total blast together as a family. We were breaking a sweat with the Kinect games and Brooke was even getting into playing them!!! This will be PERFECT for when we get up to Idaho and are stuck indoors for the winter months :) We LOVE IT!!!
And Echo beggin for his beggin strips, YES our dog get's gifts and his own stocking!
After playing our games and opening gifts we headed down to San Diego to spend Christmas Day with my family! We ate a WONDERFUL home cooked meal with the very best Turkey all of us have ever had! SO GOOD!!! Also complete with Dad's Poway Beans which were AMAZING as well! We enjoyed laughs, watching the kids go wild, opening gifts (which I also did not get pictures of due to me being busy opening my gifts and helping Brooke), being spoiled, then after dinner and gifts we all packed up and went out to walk a neighborhood full of Christmas Lights! It was a very fun thing to do on Christmas Day! We came home, had pie, and then headed home! It was a wonderful Christmas Holiday!!!
I am NOT loving my house being trashed as it always is after Christmas! Maybe I will get to that tomorrow :) along with going through all Brooke's toys and finding new spots for them. I do LOVE the relief of Christmas being over! Starting to think of the New Years Resolutions!
I hope you all had a very WONDERFUL Christmas and took time to think about the Savior! I hope you all got everything you desired but more than that I hope you all were able to spend time with those you love!