Here is our 10 week Ultrasound of our little #2! We love "it" already and already can't wait to find out what "it" is! Vote on the side of our blog for what you think we will be having, I am always curious to hear what the majority thinks :)
The little one is doing well, it is measuring a little under 10 weeks but the Dr says it is normal to range from 5 days ahead or behind of what you are "supposed" to be at. So we are in the normal range. The heartbeat looked good and was at 148 beats per minute, between 120 & 170 is considered normal. Brooke's was in the 160's if I remember correctly, I do have it written down somewhere :) We think the little one is beautiful and can't wait to watch the baby grow through these months! We will be going in on February 1st to find out what we are having! We are already counting down the days!
Here our our 3 shots we got!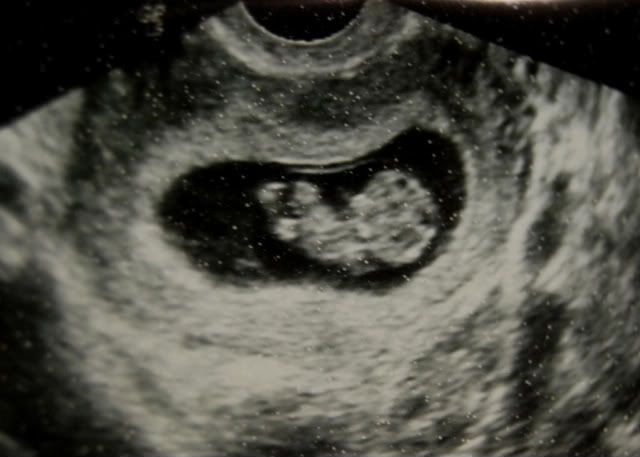 This is a profile shot of the little one's head with it's arm and hand right by the face! I love the detail of this one!
A few things I want to remember about this pregnancy so far:
~ I have been sick to my stomach since literally the day after I got pregnant.
~ The first 8 weeks I felt sick almost 24/7.
~ The past 2 weeks or so I feel sick between the hours of 3:00pm-7:00pm, and I feel REALLY sick then.
~ Very tired, as I was with Brooke, but I feel MORE tired because I have a 1 year old I am trying to keep up with.
~ My mouth always tastes NASTY, almost a metal taste, eeewwwww......
~ I feel bigger faster.
~ For some reason I am more worried about complications this time around than last time? Don't know why?
~ I crave Cold Cut Sandwiches, mostly Roast Beef ones, and LOTS of Mustard!
~ In the very beginning I felt like a bottomless pit but now it feels like a chore to eat most of the time.
~ I am THRILLED to be growing our second little one!
(This pregnancy has been SO different than with Brooke, I craved doughnuts almost daily with Brooke, never felt sick, but just felt VERY tired!!!)