Can you believe it? A post about something or somebody other than Brooke :)
Kip recently took a trip up to Rexburg, Idaho to visit his brother and to check out the city. Kip and I have recently decided to pursue the idea of having him go back to school full time at BYU Idaho? We are not sure if it is what we WILL end up doing or not but Kip and I figured it would be a good idea to have him go up there and check it out before we just pick up and move to a place we have never even seen. The fact that his brother Rick is up there and has not had many visitors was another big plus in getting Kip up there for a trip.
Kip had a TOTAL BLAST!!! He LOVED Rexburg and thought it was absolutely beautiful and he says the city just has a spirit about it. He did not get a "this is the place" feeling when he was there but he did not get a feeling that is was NOT the place either. He did LOVE it, loved seeing all the GREEN, enjoyed playing in the mountains, experiencing the summer thunder and lightning storms, and just LOVING the time he had with his brother. I am so glad he got to take this trip, he needed it!
Here are some of the pictures he brought home. Now I want to get up there very soon, looks like such an amazing place! Who knows maybe we will be living there next year? We shall see???
I can not find the video from the quad ride but it looks like it was a blast!
These pictures are of a hike Kip and Rick did up to a place called Table Rock. It was a 15 mile hike total and a HUGE elevation change. Kip says it is one of the most beautiful and most difficult hikes he has ever done!
Look at the sweat marks from Rick's backpack!
I can not believe how many calories they burned!!!
Rick filtering stream water, again the sweat marks!
Here are some scenic pictures from their hike, so beautiful!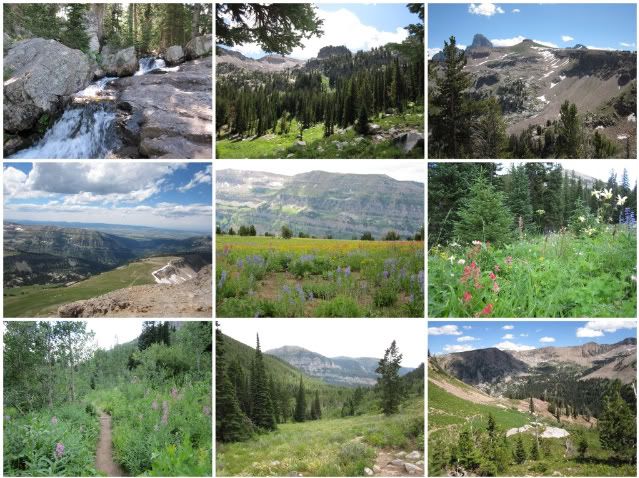 Here are a few of the other things the guys did together. Checked out Rexburg, explored an old building, went to a truck show, saw Grandpa Ginos's hot rod, went to temple square and enjoyed a really cool organ preformance in the Confrence Center.
We will see if life takes us to Rexburg? Either way I am SO GLAD Kip got to do this trip. Him and his brother have not hung out this much in a very long time! I will keep you posted on where it looks like we will end up when we figure that out :)