Happy October!!! Let's welcome the month with some BLOOD!!!!!! Brooke just decided to get her first BLOOD owwie! I am actually really impressed that she made it to 14 months old before she got her first bloody owwie, being Kip and I's kid and all!
So here is our little VAMPIRE!!!!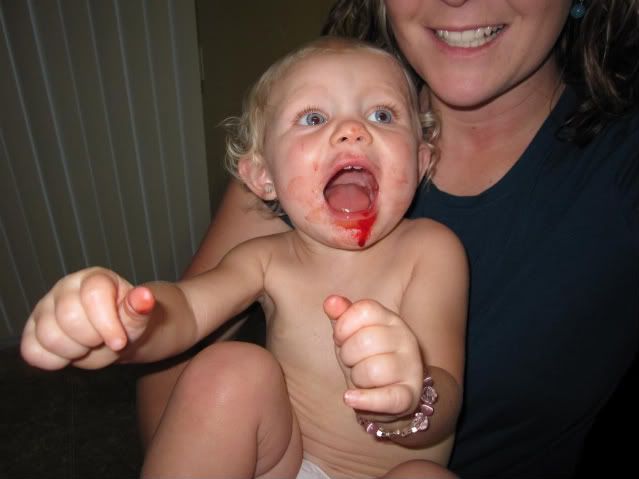 So how did this happen you ask?? Well I did not see it but Kip did, she was on her knee's in the kitchen and I suppose she just slammed her face into the ground?? WHY IN THE WORLD??? Hopefully she learned her lesson! She sliced open her bottom and top lip with her tooth. I had her in the bathtub for a half an hour to get the blood to stop. Silly kid! She cried for a second and then just wanted to play with the blood. CRAZY!!!
Can you guess what Brooke is going to be for Halloween??? It is one of her nicknames!
Check out the new Jammies, they are our next hint: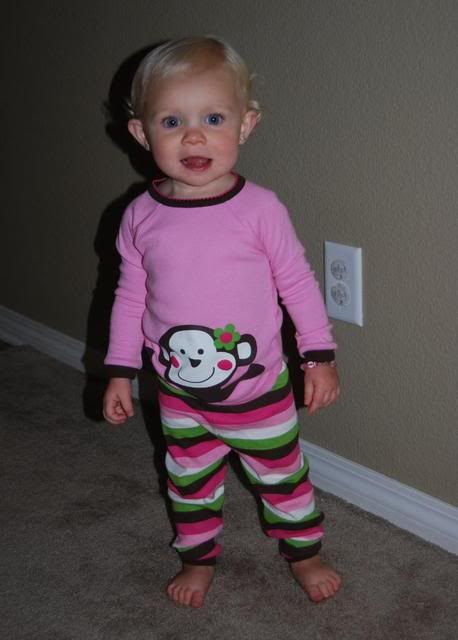 A MONKEY!!!!!!!
I know it is not the girliest costume but I WILL put a cute little bow or flower on her little monkey head to make it girlie! Last year Brooke looked like a Turtle so she was a Turtle and this year she ACTS like a Monkey so she will be a Monkey :) I am SO EXCITED to see her costume that I should be getting in the mail any day now :)