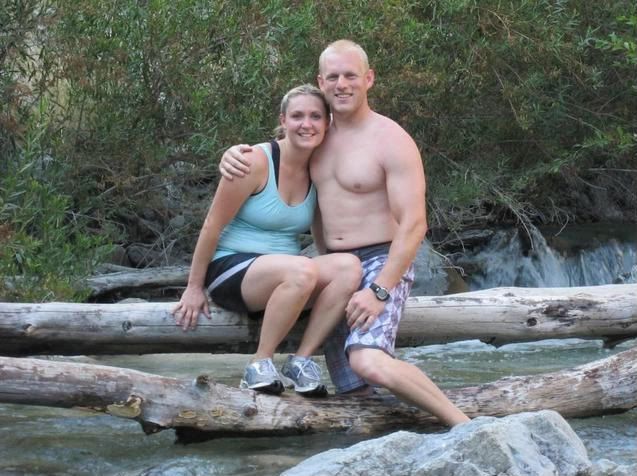 Last Thursday, September 2 was a BIG day for Kip and I! It was the day I celebrated my 30th Birthday and ALSO the day Kip and I celebrated our 4th Wedding Anniversary! So, I have begun to call it my Birthaversary!
I told Kip all I wanted for my birthaversary this year was a special date/adventure, just him and I! Kip and I used to have adventure trips all the time but it seems that since I tore my ACL about 3 years ago our adventure trips have been very few and far between. That has been such a big part of US and our relationship and lately we have really been missing that. SO we finally got our adventure and it was WONDERFUL!!!! The perfect Birthaversary gift, it was everything I wanted and more! Well all but for the part where we lost our way and by the time we realized it our only option was to climb straight up the very steep and slippery mountain to the trail. Did I mention the fact that we were climbing on our hands and knees up a previous rock slide with loose rocks that were so hot they were burning our hands?? O and the fact that I had a break down and cried and told Kip that I did not want to die this way and that I wanted to raise our baby girl! Yep I am drama and a whimp when it comes to heights and a slippery non safe feeling! Overall still a blast! Now that I look back the freaky part just made it more fun, tho I would NOT do that again! We also decided that we are going to do stuff like this hike SO much more often and we are most definitely going to go back to this place again!
Here are some random shots from our hike! Echo was in dog heaven!!! It was a hot day so the water felt AMAZING!!! The water really was not all that bad at all, more refreshing than anything!
Little did we know at this point what was to come, but we had fun jumping off these rocks anyway!
The smaller bigger jump! SO FUN!!!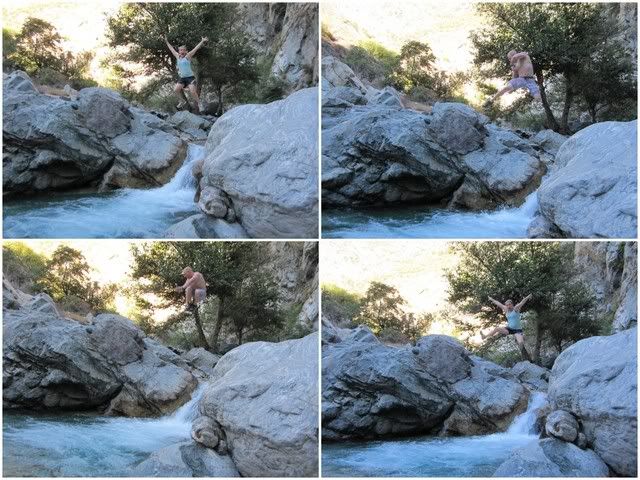 Daddy's turn on the BIG ONE!!! This was about 10 feet high I am guessing, we could not touch the bottom of the water which was so cool!
Mommy's turn!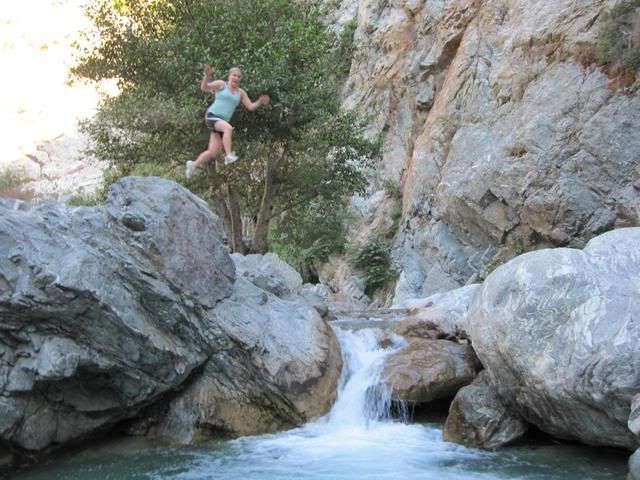 Echo's turn!
Taking the leap together!
Thanks to Grandma and Grandpa Robinson for watching Brooke for us for the whole day so that we could do this, and for throwing me a cute little party complete with a cake and NEW running shoes and socks that were MUCH NEEDED!!! THANKS!!!
P.S. This hike is in Azusa, CA about an hour from here and it is called The Bridge to Nowhere if you want to look it up! SO FUN and not too hard! (as long as you do not get lost :))