Can you believe it??? It is JULY!!!! The month my little girl was born last year, this is CRAZY! I can not believe that our baby girl is 11 months old! Are you kidding me???? Ok really as you can tell I am still in shock by how fast time flies when you become a parent. That is seriously one of the things people are totally not kidding about when they say "O' wait time speeds up when you have kids" YEP IT DOES!!! I don't like it one bit. Like why in the world couldn't those horrible years of dating and getting your heart broken and all of that stuff have gone by fast and now that life is AMAZING it should slow down so we can get ever bit of joy out of every day before it is over. That is what I think!
Ok so Brooke is 11 months old, let's get back to that, and yes I am also getting back to blogging! I promise! I have SO MUCH to catch you up on but it will come in time, I promise. Maybe not super fast because I am planning a 1 year old Birthday party and if you know me you know I am obsessing about it much because that is just me....
Ok moving on to Brooke being 11 months old! YIKES did I say that already?
So on Brooke's 11 month birthday we had a very interesting day. We started the day at 12:59am driving around in the car because I could not get Brooke to calm down and stop crying in the middle of the night when I was at my parents house which was full in every single room with guests. So we were up all night long, in the morning we had my wonderful Grandma Carlson's funeral service. When we got home we took Brookes temperature and she was at 103 degrees. NOT GOOD! Kip and I were stressing and poor Brooke was not looking great at all. So straight to the Urgent Care we went as a little family. There they weighed Brooke and at 11 months on the dot she was 18 lbs 1 oz. YEP SHE IS ITTY BITTY!!! I am stressing about her 12 month appointment! Are they going to think I am starving my child? BECAUSE I AM NOT!!! Anyway, it was actually a very fast very pleasant Urgent Care experience where we learned Brooke had her very first ear infection :( Here is a picture of her when we got home right before we got her her meds! Kip was POOPED, Brooke felt like crap!
Seeing her this way broke my heart! I am so weak when she needs her mommy, she has me and her daddy wrapped! Thank goodness the meds kicked in quick and we had our baby back to normal in about a day and a half!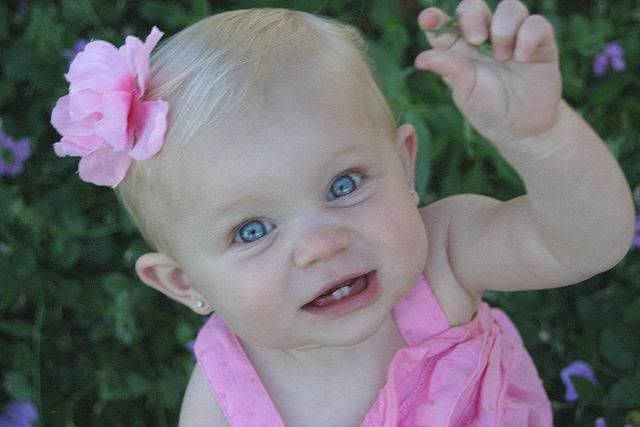 Stuff about Brooke at 11 months old that I want to remember:
~ Brooke is loving to stand, walk along things, use her walker inside of it and pushing it on the outside of it.
~ Can stand on her own but does not yet trust herself to do it, when she catches herself doing it she drops to her bum.
~ LOVES to read and loves turning the pages of books! A big book fan!
~ Can say Baba (baby), Ball, Uh uh (when she drops something), Dada, she is trying to say Doggy, Numa num (eating food), bye bye (with a wave), hi (with a wave), still not mama :( But I do know she loves me!
~ Is starting to cling to us when we hold her, it is cute more than annoying to me!
~ Crawls FAST!
~ Has cut her top 2 teeth so now she has 4 teeth in total.
~ Loves doggies!
~ Dances to a beat!
~ Has become more attached to her binkey which is sad because it will be leaving her life soon.
~ Loves to wave!
~ Loves to turn on and off lights whenever we are holding her. Tries to say "push" when she is switching off lights.
~ Loves to touch plants when we are outside.
~ Has learned how to drink out of a straw.
~ LOVES BALLS!!!! She has such a good arm on her, that girl can CHUCK a ball across the room easily!
~ Is learning the meaning of "no"
~ Has learned how to get into the cabinets and LOVES to pull stuff off the pantry shelf.
~ LOVES to go bye bye places and loves to ride in the car most of the time!
~ Is obsessed with opening and shutting doors! Obsessed!
~ Picky Eater!
~ Talks, and talks, and talks, she has interesting accents too, it is so funny!
~ Brooke can not sit in any type of chair properly, she always has her feet up and out of her carseat, high chair, or shopping cart, and stroller. Silly!
~ Brooke LOVES to eat paper or cardboard! Strange child!
Here are some pictures from the month:(WARNING PHOTO OVERLOAD)
We just love every moment we have with this little girl. She is our world, and consumes our happiness! She brings so much joy into our life! Thank You Heavenly Father for giving us this little girl! Thank You SO MUCH!