So the other day I was SO excited to do Brookes 8 month photo shoot. I had my day planned around it, made a special bow for her to match her brand new dress that I pressed and had ready, I had the perfect place planned and in my head, the pictures were going to be BEAUTIFUL!!!! So excited!
Last minute Kip decided to come along for the shoot since Brooke and I would be driving back behind my house into this field. He just had a feeling he needed to come protect his girls. WELL thank goodness he did....
We get to the field, to the PERFECT SPOT, I set Brooke down and get off these 5 shots in this order.... still working on my lighting by the way....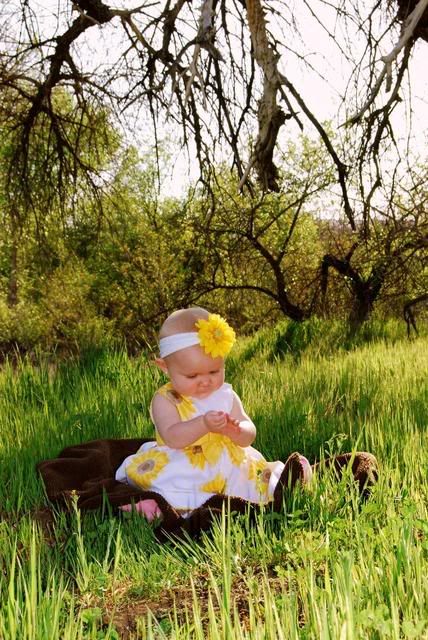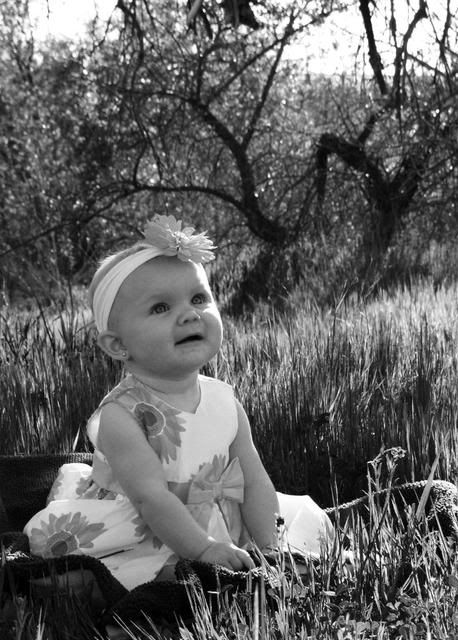 In the meantime Kip decided to do a snake check and less then 10 feet away there was a 2 foot rattle snake slithering right toward Brooke and I! What would have happened if he had not come??? I am so grateful for my husband and for his listening to inspiration. I grabbed Brooke and then froze in the spot I was in because at that point Kip says, now look out for baby rattlers it is season for babies and where there is a big one there are babies. Babies are more dangerous then the mommy and daddy ones. I had flip flops on and we were in high grass. Every stick, every blade of grass that hit my foot on the way back to the car made me cringe!
SO I have not done anymore shots yet for her, going to get that done this week. Then will come her 8 month post!
I am SO grateful for Kip's inspiration and for him being there. I should have taken a picture of the snake but I was too freaked out and grabbing Brooke to worry about taking a shot of the snake. I HATE SNAKES!!!! Thanks mean snake for ruining my beautiful photo shoot I had in my head! I did not even get to get started :(