On Sunday, August 23'rd our little Brooke was given a name and a blessing by her daddy! Those who participated were Kip Sr., Tyler Carlson, Danny Wyrick, Todd McKamey, Rick Robinson, Gregg Hardy, Bishop Hughes, Todd Moran, Clint Hannon, &Matt Thompson. Kip did an absolutely AMAZING job blessing her, I could not have been more happy! I started crying at the very beginning when he was talking about what a blessing she is to he and I. Kip was very thoughtful with all of the words that he chose and I could tell it came straight from the heart and was deeply meant. What a wonderful experience it is to see your husband use his Priesthood in such a manner. I would have to say I am glad that it is the fathers that have the responsibility to bless their children, what pressure that must be? But like I said Kip did an amazing job, little Brooke is lucky to have such a fantastic daddy who adores her so much! Kinda a funny and freaky thing is that little Brooke had 11 men all together participating in this blessing, all with a hand on her, and she almost fell out of their arms at one point. She suddenly decided to do a roll and thank goodness the guys caught her. I would have been so upset if 11 men could not hold 1 baby. But all was well, she did not cry much at all, and she came out unharmed and full of incredible blessings from her daddy!
The day was wonderful to be able to spend it with family and close friends! I kinda dropped the ball with the whole inviting people to her blessing and I feel so bad to this day for it. I was and still have been a bit overwhelmed with life and it had been o' so busy up until that point that I really did not plan as much and as detailed as I should have for her blessing. I wish I would have invited more extended family and friends. Please forgive me all of you that I did not invite. I am truly so sorry! We did have a great day with our families in town. Almost everybody from both sides of our immediate family were able to be there for the occasion which is really hard to do. We had a wonderful time after the blessing having a nice brunch back at our place and just visiting. I love that Kip and I's families get along so dang well, we all just feel like one big happy family and it is just the best!
Brooke's dress is a very special dress to me and I hope that it will be to each of our girls. Her dress was made by her Grammy Carlson out of my wedding dress! The front of her dress is the train of my wedding dress and it worked out just perfectly! I was SO happy with how the dress turned out and will be forever grateful to my mom for doing that for our little girls! I made her bracelet the night before and my friend Katie Gunnell made her little headband and flower. The flower is also made out of material from my wedding dress. Everything was hand made and with love! Thanks to all!
Here are some pictures from that wonderful day!
Brooke Lyn Robinson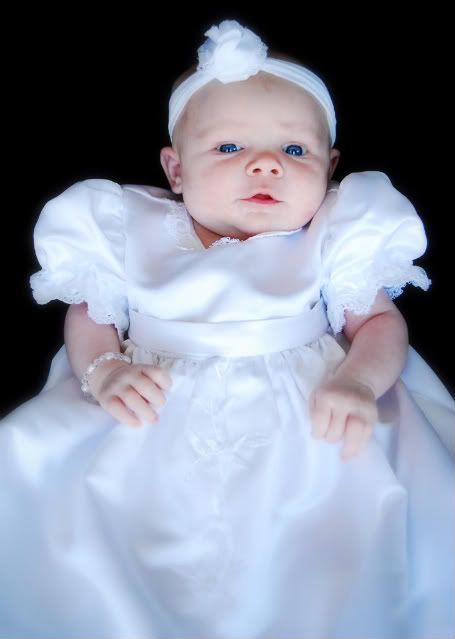 Daddy & Mommy with their little princess
Group shot
Both sides of our family
Grandma & Grandpa Robinson, Mommy, Daddy, & Brooke, Grammy & Pa Carlson, PaPa Wyrick
Carlson Family
Robinson Family
Mommy & Brooke
Daddy & Brooke
Grandma & Grandpa Robinson with Brooke
Grandma & Grandpa Carlson with Brooke
The Grandma's & Brooke
The Grandpa's & Brooke
Front of dress
Back of dress