Well hello one an all and welcome to our Halloween Party! For those of you that could not make it, I want you to feel like you were there anyway!!! So dress yourself up....right now....before you go any further....now come on in!!!
Check out a few of the decorations, smell that chili cookin', and that halloween music playing in the background. See...don't you feel like you are really here???
Ok so enough of the sillyness, I know I am a little bit crazy!
We had a blast this last Saturday Evening celebrating our FAVORITE holiday with some of our closest friends. We are sad for those of you that did not make it but hay, there will always be next year! Here are some of the shots from the night, unfortunatly I did not get many pictures other than couple's but this is what I got. ENJOY!!!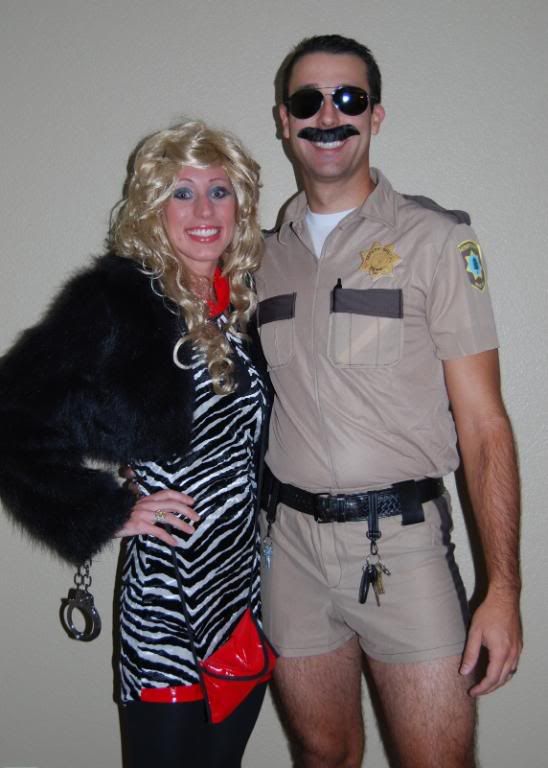 Laurie and Gregg Hardy as Jim Dangle (Reno 911) and his most recent arrest! I think this was one of the Funniest costumes of the night!!!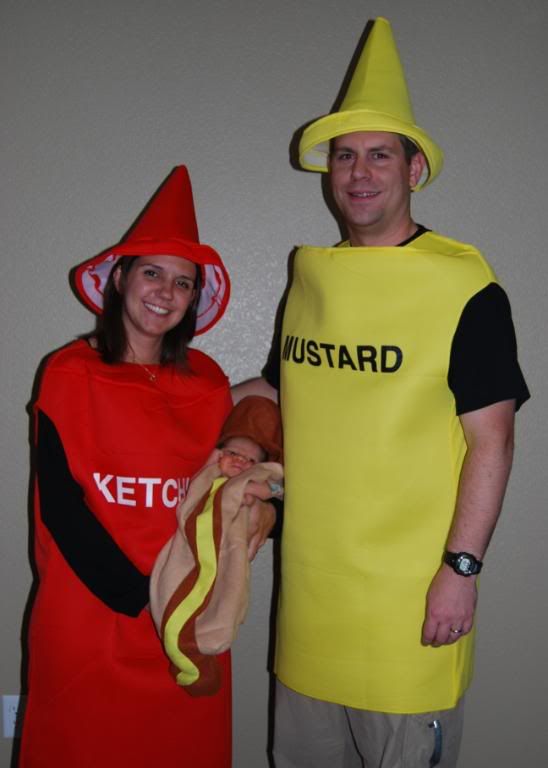 Amanda, Kellen, and Todd McKamey as Katsup, Mustard, and Hotdog! SO CUTE!!!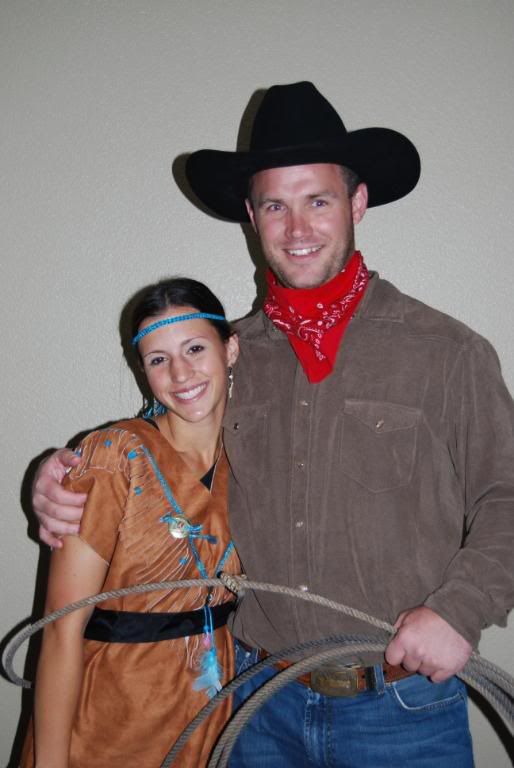 Jessica and Josh Fisher as Cowboy and Indian! Their costumes were so dang cute!
Roger and Lyndzee as Punk Rockers! I almost did not recognise them! They looked SO GOOD!!! It kinda creeps me out how good they can pull that look off! SO HOT!!!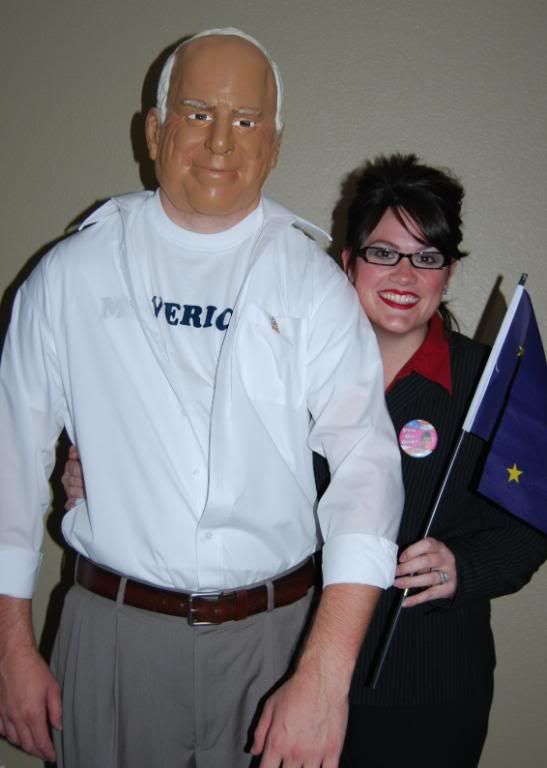 Josh and Vanessa Ferguson as John McCain and Sarah Palin! Ha, SO FUNNY!!! They look so much like them to me! What a perfect idea!
Heather and Seth Andres as Dora the Explorer and Boots! So cute, totally going to be cute parents! Heather hand made this whole costume, the Dora wig and all!
Lani and Mark Braithwaite as Evil Nurse and Creepy Doctor! They looked FREAKY!!! And HOT!!!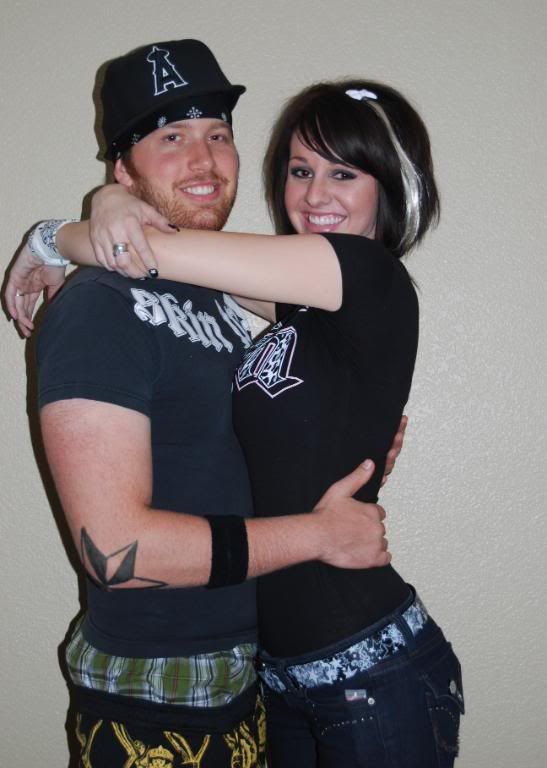 Ryan and Cindel Houston as a Bro. and a Bro. Ho! They looked SO for real, with all their fake tatoos and what not's!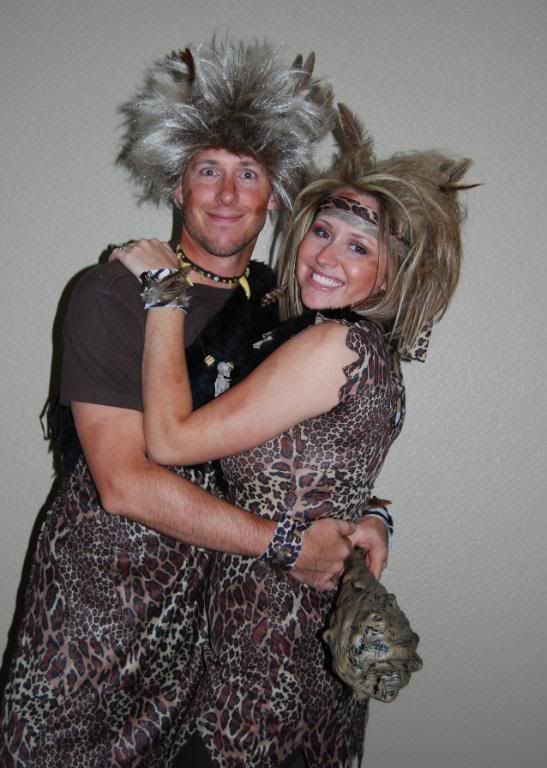 Cindel's Sister and her Hubby, SO SORRY I forgot your names, as a Caveman and Cavewoman! It was SO nice to have you! Loved the totally cute costumes, LOVED THE HAIR!!! Totally creative and fun!
Carl and Erin Dellenbach as Fierro and Alfaba from Wicked! Totally Cute!
Janitsy and Nathaniel Anderson as A Greek Warrior and Greek Goddess!! These were GREAT costumes for them, Nathaniel looked totally tough and buff and Janitsy looked Beautiful!
Kyra and Matt Thompson as the characters from Juno! They pulled this off SO GOOD!! And YES she really is prego!!!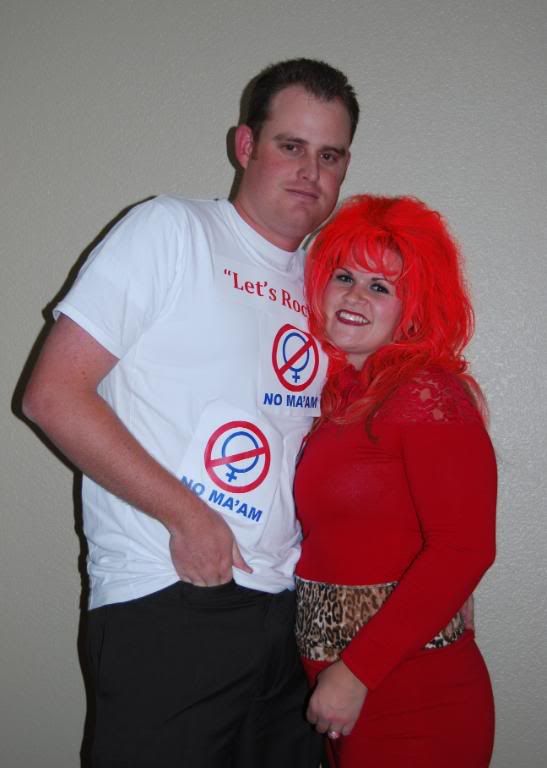 Todd and Katie Bruer as Al and Peggy Bundy!! Such a Classic Idea!!! LOVE IT!!! And YES that is her real hair that she sprayed red!!!
Emily and Todd Moran as Richard Simmons and a 80's Fitness Chick! SO FUNNY and he totally stayed in Character all night, what a hoot!
Clint and Nicki McDowell as A Pair of Jeans, get it??? Quite a creative idea!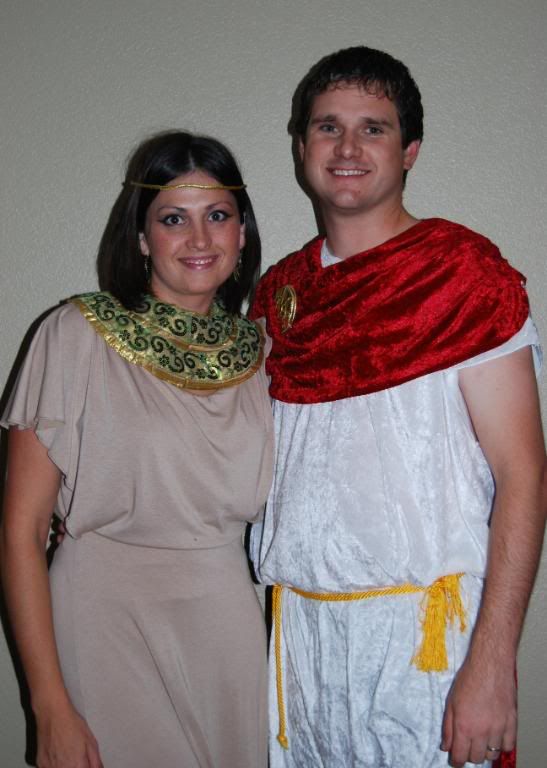 Melissa and Ryan Nelson as a Roman and an Egyption! Their costumes were also SO CUTE!!! Melissa was quite creative with her church dress, totally impressed!
Megan and Rob Hacker as Dog the Bounty Hunter and his HOT Wife!!! This was SO FUNNY and they got it right to every last little detail! Loved this costume and Megan looked QUITE HOT!!! Rob, wow that mullett really does it for me too! Ha this was so funny!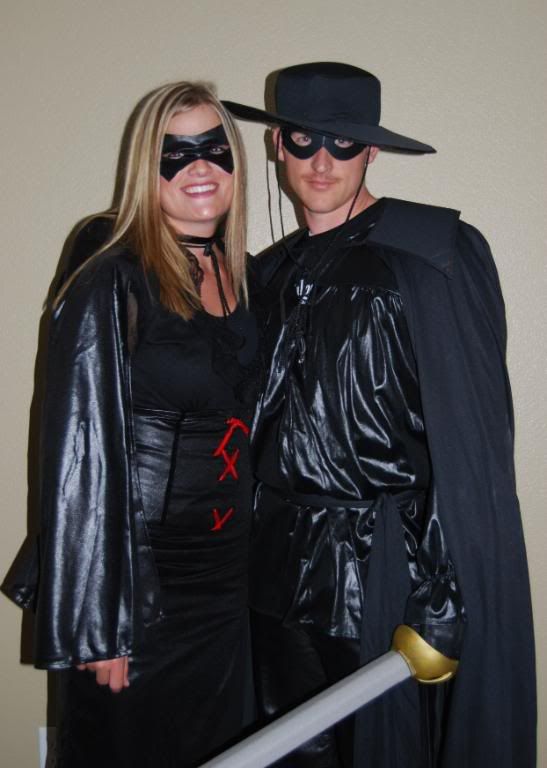 Shelly and Ryan Cook as Zorro and Zorra, although I think a ton of us at the party thought Ryan looked A TON like Wesley from The Princess Bride, don't you see it??? I do! Loved the costumes!!!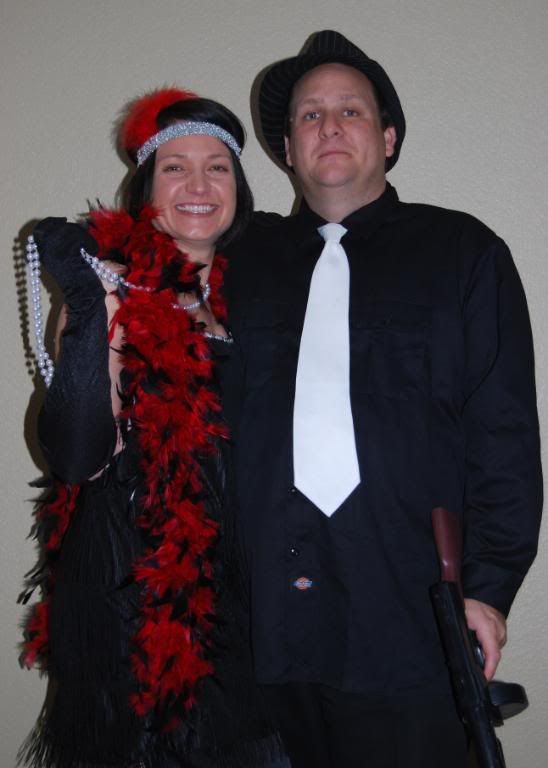 Sunny and Tom as a Gangsta and his Hottie Flapper Woman! Totally pulled it off! Totally cute as can be!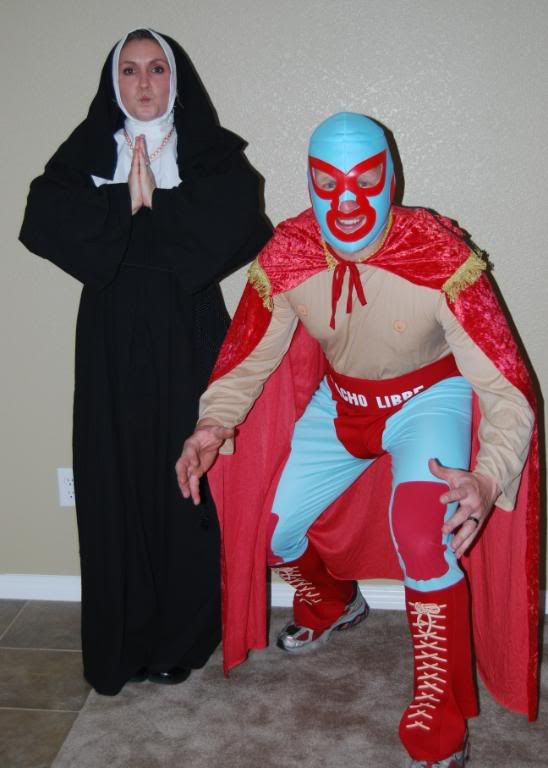 And Last but not least Sarah and Kip Robinson Jr. as Nacho Libre and Encarnacion his Nun woman! Kipper CRACKED me up in this "strechy pants" and Mom you did a great job on the Nun costume! We had SO MUCH FUN!!!!
Here are a few shots from some of the games!
Husbands were made into Ghosts by their wives! Fun times!
Bang, Pop, the object of the game is to pop the balloon around the ankle of everyone before you get yours popped. This was so fun to play and watch!
We also played a game where people had to guess what was in the bag. It was stuff that was supposed to feel like body parts. I wish I would have gotten pictures of Heather and Sunny's faces as they stuck their hands into a bag of live crickets! It was SO FUNNY!!!
We had a GREAT time and are glad all of you came and put so much time and tought into your costumes. Can't wait till next year already!!!