So as you out there in Blogger world know, little baby Brooke has been with our family for 10 days now! I am SO SORRY it has taken me SO long to get on here and post some pictures and the birth story. I have had a hard time being motivated to put my little girl down, and to have the desire to sit on our HARD wooden office chair for as long as it will take to tell the birth story of this little lady! But I told myself TODAY IS THE DAY! So as Brooke sleeps next to me in her swing cooing and making cute little baby noises and faces I will send her story out to the world!
First for some pictures!!! I did a very mini shoot 4 days after her birth but need to get back out my stuff and go CRAZY!!! Here are some shots from the mini shoot!
Meet Brooke Lyn Robinson, our perfect little princess!!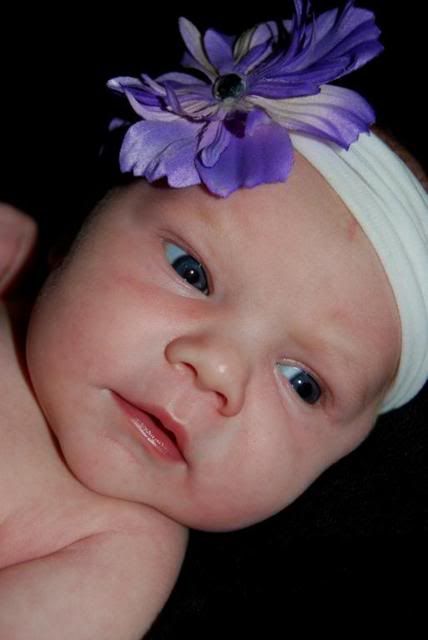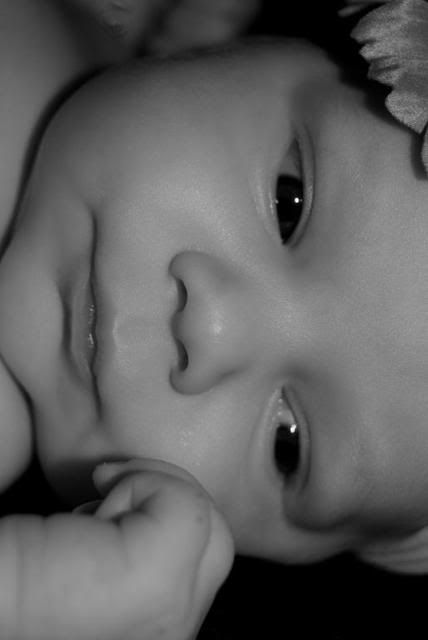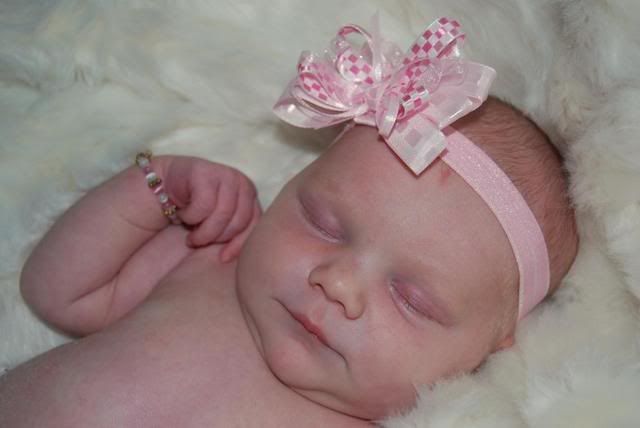 Ok
now for her forever long birth story and a million pictures to follow!
Monday, July 13
th
I go into the hospital with contractions that are 3-5 minutes apart and am observed for a few hours and sent home because my contractions are not making me
dilate
any more than the 1.5cm I was at my last appointment. From Monday on I have
consistent
contractions but nothing painful and useful.
Thursday, July 16
th
I was scheduled to be induced which was 4 days after my due date. I was super excited and was told to call down to the hospital at 1pm to make sure I could come in at my scheduled 2pm appointment. Well, I call down there and they tell me that they are full and overflowing and that I needed to call back at 3:30pm to see where they were at at that point. I was super depressed so Kipper cheered me up and made me laugh and we decided to watch a movie to kill time. At 3:30 I get up from the couch to make the call down to the hospital and I feel this gush of something run down my leg. Not a HUGE gush but enough to where I wondered if I somehow just peed my pants. I went to the restroom and realized at that point that my water must be
leaking
. So I call the hospital and tell them that I was scheduled for and induction but that I think my water just broke. They tell me to come on in!
We get there at around 5pm and stand in the hall about 30 minutes as my contractions start to pick up more regularly. When I go in the nurses do a PH test to check if my water has broken, one says it has and another test says it has not but they decide that I have broken my water and that they would admit me! I was SO EXCITED!!! The external monitor on my belly was showing that I was having big contractions every 2-3 minutes so they decided to give me 4 hours of contracting before checking me to see if I even need to be put on
Pitocin
since my body was looking like it was doing the work well on it's own. 4 hours go by and I am checked and....... still at a 1.5 which I had been at for a little over a week now. So they decide to start me on
Pitocin
and the party begins! The nurse that was on that evening was not super aggressive with the
Pitocin
and they did not want to check me too regularly due to a chance of infection so the process seemed to be long from the start. My contractions were looking super strong and regular but at my next time of being checked I was only at a 2 after HOURS of
Pitocin
! At this point it is now Friday and I am beginning to come close to the 24 hour mark from when my water broke. No food, no sleep, and now at 24 hours of hospital labor. I decide that I am going to have to have a C Section and mentally prepare for it. Then the nurse staff changes and I get these super cool aggressive nurses that tell me that if I want to try for a vaginal birth than they will do all they can to make that happen. I was SO STOKED!!! My heart rate was good, Brooke's was good, and I had been on antibiotics for hours which would make my chance of infection very small. They decided to continue to monitor both of us very closely and to become aggressive with the
Pitocin
, and to change my contraction monitor to an internal monitor to get a more accurate reading of how effective my contractions were being. They said that since I had little fat between my skin and the uterus that the external monitor was sensing EVERYTHING more than it really was. The internal monitor showed us that my contractions were regular but very small. So the
Pitocin
gets
upped every 30min and I start seeing a little progress with the contractions but not much, and begin to feel back labor (not fun). Then suddenly the monitor starts showing that my contractions are fading again. I am not really feeling much pain so I decide to take a short nap. Well I wake up from my painless nap and go from 5% pain to 100% in a split second!!!! OUCH!!!!!! I wanted to try to go without an epidural but O MY GOSH!!!!! So I try to breath through them but they feel like there is NO rest between them, there was no point where my muscles relaxed for even a second to recover before the next contraction. I was not a happy camper. At this point it has been coming up on 30 hours of me not having food or sleep and my toleration was slim at that point. I had them come in to check me and I was
dilated
to a 4! NO WAY could I make it to a 10 with this kind of pain so I asked my mother in law to go tell them I wanted an Epidural. They order it and it's been like 10 min and no word from anybody, I feel like I am going to die any second. So I send my mother in law back out to find out what is going on as I begin to loose it. The nurse comes in and tells me that it is going to be about 30min till the doctor can come in to give me my epidural because he is in on a C-
Section
right now. SERIOUSLY????? To me a half an hour seemed like a lifetime away and I was 100% convinced I would be dead by then. My husband did as I told him to try to talk me out of getting one but I did not care one bit! I wanted the pain GONE!! So then the nurse comes in and asks me if I want a pain reliever while I wait for the doctor. Instantly I say YES!!!! As soon as that medication hit my veins I was SO HAPPY!!! I was on cloud 9 and wanted to steal more of those drugs to bring home. I was so, so sleepy and I am sure pretty dang funny at that point! I could still feel the pain but really did not care, strange! Interestingly the internal monitor at this point was not showing that I was having any contractions when in reality I was having HORRIBLE ones! So as the Epidural gets given they also decide to give me a new internal monitor since the other was not reading anything.
Aaaaaaa
.... the Epidural was wonderful and at that point I could not feel much at all. The internal monitor shows me having contractions for a while but as time goes by and every 30min my
Pitocin
gets turned up the contractions look smaller and smaller. At one point I had gotten the full limit of
Pitocin
that the hospital gives but I guess a doctor can approve you for a little bit more. My doctor approves me for the highest dose a human can get so every 30 min we work towards that full dose. And as time goes my contractions look to be getting smaller and smaller and smaller on the screen. I am now convinced that I am
immune
to
Pitocin
and that again I will be getting a C-Section after all of this mess! When I reach the full dosage they come in to check me. The contraction monitor screen looks like a smooth country road at this point. I expect them to tell me that I am
dilated
to a 5 or something stupid like that and that they will need to give me a C-Section. She looks up at me and says you are to a 9 and 100% effaced. YEAH!!!!!! I was so happy that I celebrated by throwing up for the first of many times to come. So an hour later they come in and I am at a 10. Then they for some lame reason go away for what they tell me will be 30 minutes and I start getting the urge to push big time. 45 minutes later they come in to check on me and I tell them that I NEED TO PUSH!!! (
ok
so I had been to see my sister have both of her babies and she pushed like 3 times to get them out and so did my mom with us kids so I was expecting to see my kid in minutes ) Well after the first set of pushes the nurse tells me it will be about an hour of pushing. I am now at 31 hours of being in labor at the hospital, no food, sleep, and the
fuel
in my body is on empty!
Ok
1 hour I tell myself, I CAN DO THIS!!!! Well come to find out Brooke's head is stuck under my pelvic bone so the nurses are digging their hands in there trying to pull her head down as I push out. Pushing, pushing, pushing, and sweating, sweating, sweating. I had to have Kip put a freezing cold wash cloth on my head in between every push to survive. I threw up
during
the pushing out of pure exhaustion. At an hour and 45 minutes of pushing I am seriously about to pass out and am starting to worry that I really am going to. My eyes were rolled in the back of my head, I could not even open them, and I was barely
conscious
. I told them that I could not do it anymore and they offered to use the
vacuum
on her to get her out, followed by all of the things that can happen by using the
vacuum
. As much as I wanted her out, my husband was standing right there having just heard all of this stuff and I did not feel that it was my right to make that kind of decision for OUR baby on my own. I decide to keep pushing on my own. My mom says the doctors faces were
disappointed
when I made that choice. So one more round of pushes and I call for the
vacuum
before I totally pass out! Before the next round of 4 long pushes the doctor tells me that even though I have the Epidural my hip bones are going to feel like they are going to shatter when I am pushing, she tells me that they really will not shatter but to expect that kind of pain. SHE WAS NOT KIDDING!!!!! Thank goodness I had that Epidural because I think if I had not I really would have passed out from the pain. But as they put her on my
chest
the deepest love I have ever felt just rushed over me, I felt a pure love that I have never felt before and I looked into my husbands teary eyes and fell more in love with him at that very moment. She was perfect, banged up and bruised but perfect! She was born on Saturday, July 18
th
at 12:52am her Uncle Rick's Birthday. After that my
placenta
would not come out! So after 30 min of trying to massage it and pull it out the doctor had to stick her whole hand in there and sweep it out of my body. I at that point had tore in 2 places, up and to the side. The doctor told me that I made the right decision by using the
vacuum
because if not I would still be pushing and would possibly have to get and emergency C-Section. She also told me that if I had a baby 1oz bigger that they would not fit out of me and that from this point on my other kids should probably be delivered by C-Section for the safety of me and the baby. I am glad that I had hung in there as long as I did and that I got to experience a vaginal delivery because I do not know if I will be able to do it again with my other kids. I wish I was more awake, aware, and alive when I delivered her so that I could have soaked up every moment of it but I was not. I did not see Kip cut the umbilical chord and had to ask him the next day if he even did. I hardly saw her come out because when I looked up to see her coming out my head fell back to the bed I swear a second later. I feel like I missed a lot of the emotion of the moment because I was so far gone. But I am SO, SO, SO grateful for a healthy and strong baby girl that was SO TOUGH through the whole thing and never even showed signs of distress through it all. She was worth every second of the 33 hours of hospital labor and everything I felt and did!
I am doing well now, still a little soar but living on love and happiness right now! Here are some shots from the birth, the hospital and other stuff.
Mommy & Daddy Excited to meet their little girl!
Still Having Fun (early in the process)
Inside Joke with my mommy!!
Getting ready to push, can you tell I am tired?
LOVE AT FIRST SIGHT!!!!!
Our Cone Head!
All banged and bruised up, a rough entry for a tough little girl!
LOVE AT FIRST SIGHT for Daddy!
Daddy giving the first bath!
Family Shots!
Going Home :) FINALLY!!!!
Our whole family together!!!